Five things we learned from the World Cup today
The second-batch of group games are over, Spain is back where they belong and Portugal made it rain on North Korea. What else have we learned.
1.
There's an awful lot to play for still.
As of right now, there are only two teams (the Netherlands and Brazil) that have made it through to the knockout stage (and even then, they haven't "secured" the top spot in their group yet) and only two teams (North Korea and Cameroon) have been eliminated. That leaves 28 teams vying for 14 spots. We are living in a world where it's completely conceivable that England (if they lose to Slovenia), Germany (if they lose to Ghana and Serbia beats Australia), Italy (if they lose to Slovakia and New Zealand beats Paraguay), the Ivory Coast (they need to beat North Korea by 9 goals AND have Brazil beat Portugal), France (even if they beat South Africa, they need help in the Mexico-Uruguay game) and Spain (if they fall to Chile and Switzerland beats Honduras) could NOT qualify for the next round.
2.
Honduras is the worst team in the World Cup.
Zero goals in two games. Zero ideas. And now the daunting task of trying to score on the Swiss (who allowed their first goal in a World Cup game in 16 years and even then had to be cut down to 10 men via a curious red card) in the final game. Honduras will go home without a point and without a goal. The Wizards' only World Cup player, Roger Espinoza, only went 45 minutes and was subbed off at half in a 2-0 loss to Spain. I feel bad for him.
3.
Portugal is the rockabilly club of Europe.
With the inked-up arms and copious hair-gel, I kind of want them to pose for their next team photo in front of a souped-up Galaxie 500.
4.
Gerard Pique is a tough SOB and a world-class bleeder.
In just two games, Spain's ace defender has bled out of two orifices. Why don't you sit the next game out, champ? If only because I don't think the magic spray can cure the need for a blood transfusion.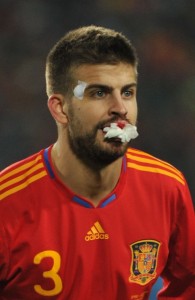 5.
There was a very conspicuous change amongst the referees after the first batch of group games.
If you're a conspiracy theorist (which I sorta am), then it's hard to ignore that the soccer these last few days was far more open, the goals were far more prevalent and the refs were far more suspect. And it started with the Mexico-France game and the spotty non-call on the Javier Hernandez goal. After that: South Africa's goalie received a suspect red card; Miroslav Klose was given two soft yellows that gifted Serbia the game; New Zealand and Italy got very generous calls that lead to both their goals; Luis Fabiano handled the ball (blatantly) before his goal against the Ivory Coast to no avail; and the ref in the Denmark-Cameroon game allowed the teams to do whatever they wanted to keep the game flowing at a break-neck pace.* Compare the second games to the much tighter and more cagey first games (where there were six draws and six 1-0 victories) and it starts to appear to be just a little bit fishy, no?
*It seems as if the biggest problem that Koman Coulibaly had was that he's the only ref that didn't get the message: Let them score goals!
Honorable mention:
Rick Reilly is still a hack
Paraguay's "cell-phone girl,"
France is still in tatters.